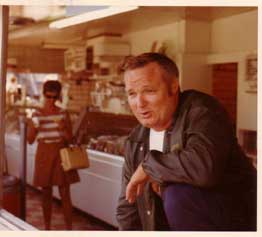 Harry Heggy was the original owner of Harry's Nut House on East Tuscarawas St. in downtown Canton during the late 1930's and early 1940's. It was a small restaurant that also sold fresh roasted nuts and his brother Ben's chocolates. Ben was the founder of the Ben Heggy Candy Co. which is still located at its original location on Cleveland Avenue in Canton.
In 1950, Harry's son Bill (pictured here) decided to carry on in his father's footsteps and invited Bob Weber, a past employee at Harry's Nut House, to be his partner. Bill and Bob opened Heggy's Nut Shop at the present site, 3200 West Tuscarawas.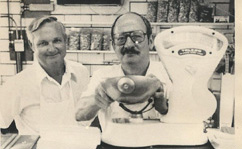 Heggy's attracted loyal customers with homemade soups, fresh ground steak-burgers, coney's with homemade sauce, buttered french fries and rich ice cream made on site. In fact, the '50's style restaurant is still popular today in a market crowded with chain stores. All menu items are homemade from the original recipes with simple high quality ingredients prevalent in the early 1900's.  Chemicals are never used as substitutes for freshness or taste.  Ice cream, crafted in small batches on site weekly using top quality 14% butterfat mix from the local dairy, is still dipped from the original L.C. Diamond soda fountain.
Heggy's Nut Shop serves its walk-in clientele, thousands of internet customers nationwide, restaurants, country clubs, farmers markets, caterers, fund raisers, bars, carry-outs, lodges & clubs, and other businesses with fresh roasted nuts and

hand crafted chocolates.
Both Bob and Bill have passed, leaving this family owned business to be run by trusted employees. When visiting Canton, please stop in and enjoy our award winning buttered french fries and famous coneys while we gather your order.